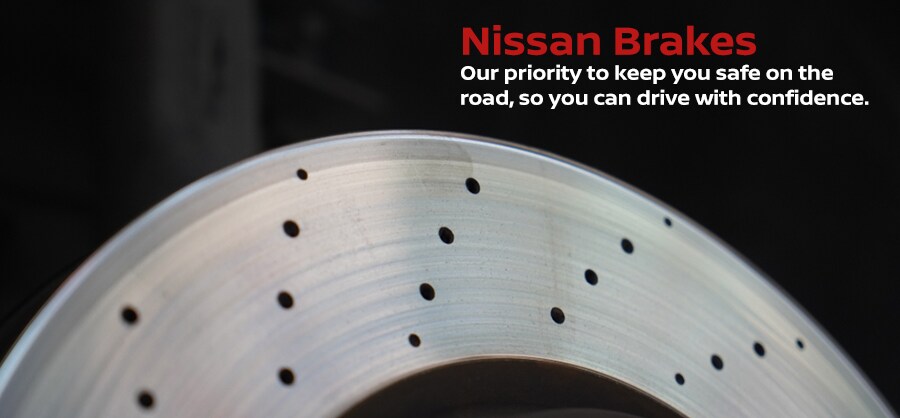 Rest Assured, Our Brakes have you Covered
There's nothing worse than having to slam your brakes, and watch your car crunch into the car in front of you. By regularly maintaining your brakes, it's a guarantee to help ensure your safety. Depending on how much you regularly use your brakes, they can last from six months, to well over a year. Here at Larry H Miller Nissan San Bernardino, our technicians have years of experience working with brakes on Nissan vehicles, and we are here to make sure they are in the best condition.
Not Sure If Your Brakes Need Service? Here Are Some Tell-tale Signs.
Sqealing, Squeaking, or Grinding Noises
Wobbling, Vibration, or Scraping When Braking
Leaking Fluid
Spongy or Soft Brake Pedal
Car Pulling to One Side When Braking
Burning Smell While Driving
Bouncing Up and Down When You Stop Short
Don't drive a Nissan? That's okay. We service all Makes, and Models, no matter the amount of maintenance needed on your vehicle. If it has been a while since you last had your brakes inspected it might be a good idea to Schedule a Service Appointment to get them checked on. If you need a change with your brakes, our technicians will take the best care they can offer, to keep you and your loved ones safe.
Have any questions about our Genuine Nissan Brakes, or getting your Brakes Serviced? Contact Us!
Find Your Brakes!
Hours
Monday

7AM - 6PM

Tuesday

7AM - 6PM

Wednesday

7AM - 6PM

Thursday

7AM - 6PM

Friday

7AM - 6PM

Saturday

8AM - 1PM

Sunday

Closed