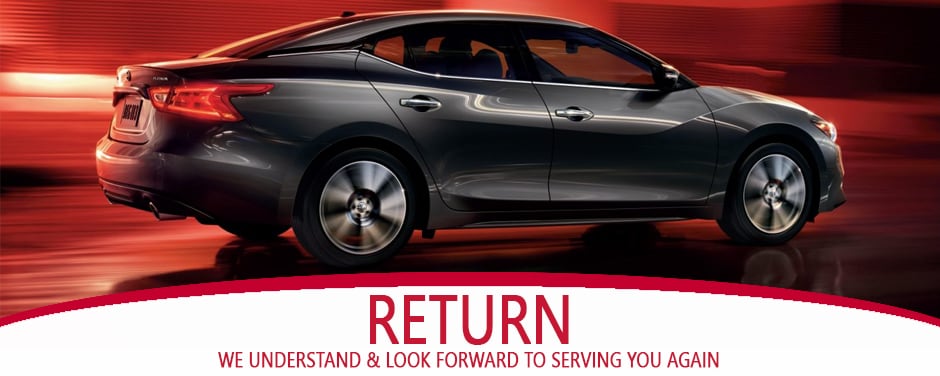 Lease-End Option: Return Your Vehicle To Your Nissan Dealership
Is a Nissan not in your future? We understand that, and you have an option to return your lease or explore other vehicle options here at Larry H. Miller Nissan San Bernardino. We support your decision, and are here to make your Lease-End Return an enjoyable and care free experience. Our staff will be here to answer any questions or concerns you might have. Whether you choose to come back and work with us, we will always be here should you choose to return.
Drawing near to the end of your lease, there are a few things you can expect when you are getting ready to return it and walk away. Expect to schedule a pre-inspection that will determine the condition of the vehicle. Contact the Alliance Inspection Management Center (AIM) at
800-253-9026
 to schedule your complimentary, but required vehicle inspection. You can also expect our incredible Certified Salesman that will help you with the lease return process. To get a quick idea of how to be prepared, take a look at the resources we have gathered for you below.
BEFORE YOUR RETURN

 Examine possible excessive wear and use on your vehicle and make any necessary repairs.
Wear:
Normal wear is expected and accounted for. However, Excess wear is your responsibility and will result in additional cost to you at the time of your vehicle return. 
Mileage: 
Leases come with a pre-set mileage allowance per year. A three year lease at a 12,000 a year allowance should be returned with no more than 36,000 miles on the vehicle. Going over your pre-set mileage allowance will result in overage charges. One of our Nissan Certified Salesmen will make sure to record the mileage upon Lease Return.

 If you think your vehicle may have excessive wear and use, schedule your complimentary inspection appointment 15 to 60 days before your return date.
Pre-Inspection: 
Pre-Inspections help you keep control of your lease by getting rid of any surprise charges on your final bill. Larry H. Miller Nissan San Bernardino will work with you to schedule a free and straightforward assessment of your leased vehicles wear & tear. This allows you the time to schedule any necessary repairs with our Service Department.

Contact us to schedule a turn-in appointment for your vehicle.
Once everything is set with your Pre-Inspections, you can can set your Lease Return Appointment! At Larry H. Miller Nissan San Bernardino we make it easy to schedule. You can give us a call at
877-941-3647
or click below to fill out an appointment form. No matter how you reach us, one of our leasing experts will work with you throughout your entire Lease Return Process.
---
AT YOUR RETURN
There are a few items you will need to make sure you bring with you to your official lease return appointment.  
| | |
| --- | --- |
| | |
| Toolkit and spare tire, if applicable | All sets of keys (master/valet/remotes), if applicable |
| | |
| --- | --- |
| | |
| Owner's Manuals | Any original equipment at lease inception (cargo cover, 3rd row seats, tonneau cover, headrests, radio, etc.) |
---
AFTER YOUR RETURN
After you return your lease, make sure to cancel any electronic payments and satisfy any remaining obligations under your lease. In appreciation of your patronage as a current lessee of Nissan Motor Acceptance Corporation (NMAC), we are proud to offer Nissan Owner Loyalty Waivers for customers. If you would like to find out more about our Nissan Owner Loyalty Waiver please give us a call at
877-941-3647
or inquire below.
Lease Return Inquiry